MOVEMENTS
At Certiga Works, we specialize in movement modifications. Whether you want to spruce up your old watch or modify and personalize your new Seiko watch, we offer an impressive collection of premium-quality modded movements that will help you build your dream mod.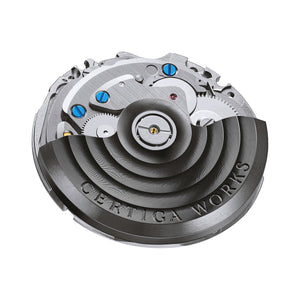 Shop modded watch movements today.
We're excited for you to get into the modding game and make a watch your own! Start your mod journey by shopping for the best mod parts here at Certiga Works. With a commitment to quality and attention to detail, our watch parts and accessories offer unparalleled quality. They have the style to upgrade the look of your watch and premium capabilities to make your timepiece last for years. Start browsing our watch movements. Our movement collection will impress you and make your modding experience less hassle and more fun. 
The challenge: Find a top-quality movement for your mod.
Want to have a modded watch you can proudly call your own? You can hire the service of modders who can turn your vision into reality. Another way about it is to build the mod yourself. The challenge, however, is acquiring top-quality watch parts that suit your taste. 
This is exactly where Certiga Works steps in. We offer a collection of modded movements based on the popular Seiko NH34 & NH35 movements to add a touch of luxury to your modded watch. Based on the NH34 movement, our CW04 GMT is a highly accurate movement.
It's perfect for those who need a watch that can keep track of multiple time zones. It features 24 jewels, 21,600 vibrations per hour, and a duration time
of over 41 hours. It's even antimagnetic and has a second hand stop function. Also, we have modified the movement rotor and blue plating screws for a
classier look. The rotor may be a functional piece, but it can elevate the look of your watch if it's decked out. So we've got that covered for you!
The CW05 movement is another highlight in our movement collection. It's based on the NH35 movement. And it comes with incredible features: manual winding, automatic winding with ball bearing, date display with quick date correction, and a second hand stop function.
Additionally, our modified watch movements come in two coating colors for rotors. You can choose to have your modded Seiko watch movement in rhodium or gun coating.